How to Download & Install DaVinci Resolve 18 on Windows 11: DaVinci Resolve 18 is the world's only solution that combines professional 8K editing, color correction, visual effects and audio post production all in one software tool! You can instantly move between editing, color, effects, and audio with a single click.
DaVinci Resolve Studio is also the only solution designed for multi user collaboration so editors, assistants, colorists, VFX artists and sound designers can all work live on the same project at the same time! Whether you're an individual artist, or part of a large collaborative team, it's easy to see why DaVinci Resolve is the standard for high end post production and finishing on more Hollywood feature films, television shows and commercials than any other software.
DaVinci Resolve 18 Features
Improved DaVinci Resolve keyboard shortcuts.
DaVinci Neural Engine for AI and deep learning features.
Dual timeline to edit and trim without zooming and scrolling.
Source tape to review all clips as if they were a single tape.
Trim interface to view both sides of an edit and trim.
Intelligent edit modes to auto sync clips and edit.
Timeline review playback speed based on clip length.
Built in tools for retime, stabilization and transform.
Render and upload directly to YouTube and Vimeo.
Direct media import via buttons.
Scalable interface for working on laptop screens.
Create projects with different frame rates and resolutions.
Apply effects to multiple clips at the same time.
DaVinci Neural Engine detects faces and auto creates bins.
Frame rate conversions and motion estimation.
Cut and edit page image stabilization.
Curve editor ease in and out controls.
Tape style audio scrubbing with pitch correction.
Re-encode only changed files for faster rendering.
Collaborate remotely with Frame.io integration.
Improved GPU performance for Fusion 3D operations.
Cross platform GPU accelerated tools.
Accelerated mask operations including B-Spline and bitmap.
Improved planar and tracker performance.
Faster user and smart cache.
GPU accelerated scopes with advanced technical monitoring.
Custom and HSL curves now feature histogram overlay.
DaVinci Neural Engine auto color and shot match.
Synchronize SDI output to viewer zoom.
Mix and master immersive 3D audio.
Elastic wave audio alignment and retiming.
Bus tracks with automation on timeline.
Foley sampler, frequency analyzer, dialog processor, FairlightFX.
500 royalty free foley sounds effects.
Share markers and notes in collaboration workflows.
Individual user cache for collaborative projects.
Resolve FX plugins with timeline and keyframes.
How to Download & Install DaVinci Resolve 18 on Windows 10 PC
1. Go to the Blackmagic design website: www.blackmagicdesign.com/

2. Click on "Products" on the main menu.

3. Scroll down till you see DaVinci Resolve 18 Studio.
4. Click on "Learn More"

5. Click on "Download"

6. Choose the operating system that is installed on your computer between Mac OS X, Windows or Linux (I'm using Windows)

7. Register and download.

8. After the download is finished you will have a zip file on your download folder, unzip the file and you will get the setup file, double click on it to begin the installation process.
9. Click on "Install"

10. Click on "Next"

11. Click on "accept the terms  in the License Agreement" then click on "Next"

12. Chose your installation path, you can leave it at default and click on "Next"

13. Click on "Install"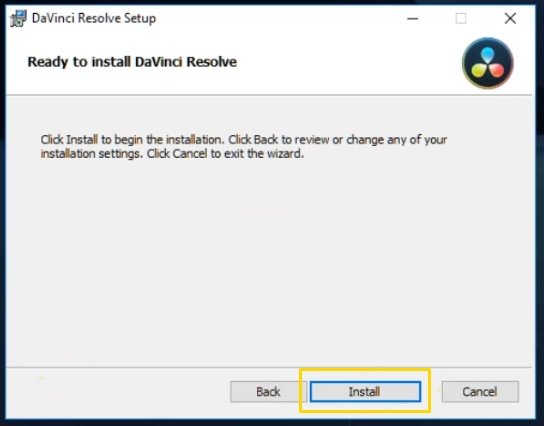 14. Give it some few minutes for the installation process to complete

15. Click on "Finish" when the installation process is complete.

16. You can now launch DaVinci Resolve 18