Best Screen Mirroring App for iOS and Android Game Streaming: In the ever-evolving world of gaming, the ability to share gameplay with others has become increasingly important. Whether you're a professional gamer, a content creator, or simply want to show off your skills to friends, having a reliable screen mirroring app can make all the difference. Enter AnyMiro, the latest and greatest gaming screen mirroring app for iOS and Android in 2023. With its impressive features and exceptional performance, AnyMiro sets itself apart from the competition.
Download Link: https://www.imobie.com/anymiro/
Is AnyMiro the Best Screen Mirroring App for Gamers?
Stable. Swift. Smooth
AnyMiro prides itself on its stability, ensuring a seamless mirroring experience with no lag or glitches. Thanks to its advanced technology and optimization, the app provides a smooth and swift mirroring process, allowing gamers to stream their gameplay effortlessly. Whether you're engaged in fast-paced action or immersive exploration, AnyMiro keeps up with your gaming experience without compromising performance.
A Stunning Visual with No Color Difference
One of the standout features of AnyMiro is its ability to maintain stunning visual quality with no color difference. The app ensures that the vibrant graphics and details of your gameplay are faithfully replicated on the mirrored screen, delivering an exceptional visual experience for your audience. Whether you're playing intense, graphics-intensive games or showcasing visually captivating indie titles, AnyMiro ensures every pixel shines through.
Immerse in Audiovisual Streaming
AnyMiro goes beyond visual excellence and also prioritizes high-quality audio. The app enables users to immerse themselves fully in the audiovisual experience of their gameplay, allowing viewers to hear every sound effect, soundtrack, and voice line as if they were playing the game themselves. The combined power of stunning visuals and immersive audio makes AnyMiro an ideal choice for gaming enthusiasts.
Stream to Any Streaming Services with Ease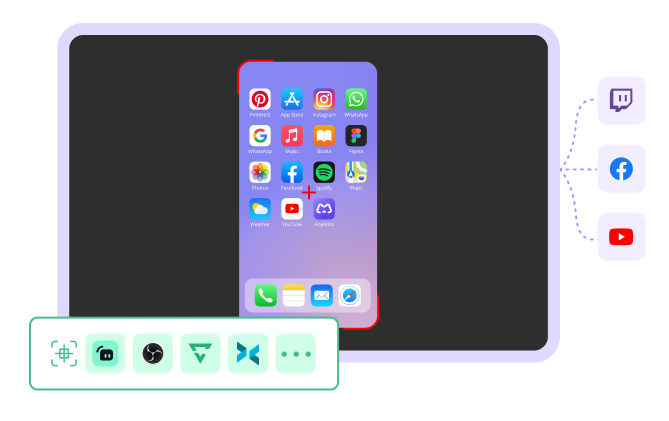 Streaming your gameplay to different platforms should be effortless, and AnyMiro recognizes this. The app integrates seamlessly with popular streaming services such as Twitch, YouTube, and Facebook Gaming, making it easy for users to share their gaming sessions with their preferred audience. AnyMiro's intuitive interface and compatibility ensure that you can go live with just a few taps, without the need for complicated setups or additional equipment.
A Seamless Gameplay You Never Experience Before
AnyMiro takes pride in delivering a gaming experience like no other. By eliminating the need for physical cables or hardware, AnyMiro allows you to play games on your mobile device while mirroring the screen to a larger display, such as a TV or computer. This seamless gameplay experience enhances immersion and enables you to enjoy your favorite games on a bigger screen without sacrificing performance or visual quality.
Easy Mirroring to Unleash Your Creativity
AnyMiro understands that screen mirroring isn't limited to gaming alone. The app also provides an easy-to-use mirroring feature that allows you to showcase and share other content, such as presentations, photos, and videos, on a larger screen. This versatility makes AnyMiro a valuable tool for professionals, educators, and creatives, empowering them to unleash their creativity and share their work effortlessly.
Conclusion
In the world of screen mirroring apps, AnyMiro stands out as the best gaming screen mirroring app for iOS and Android in 2023. Its stability, swift performance, stunning visual quality, and immersive audio make it a top choice for gamers and content creators alike. With the ability to stream seamlessly to popular platforms and unlock new levels of creativity, AnyMiro is a must-have app for anyone looking to share their gaming adventures or showcase their work on a larger screen.
People also ask
Which app is best for screen mirroring to PC and Mac?

Which is the best app for screen mirroring?
What is the best screen mirroring app for Android to PC for gaming free?
Which app is best for screen mirroring to PC?
What is the best PC to Android screen mirroring?
Which app is best for screen mirroring without WIFI?
Do I need an app for screen mirroring?
Can you screen mirror without WiFi?
How can I cast my phone screen to my PC without lag?
Your Answer lies on AnyMiro: Download AnyMiro today and elevate your gaming and mirroring experience to new heights.